A Piece of Israel ~ On Wood
(For more information of each type of wood and gift ideas, scroll down)
ALL our wood products are available now!!
If you want to order a wood product that doesn't yet have a product page, please contact us using the form at the bottom of the page and we will get back to you.
---
Personalized Gifts, Etched Into Natural Wood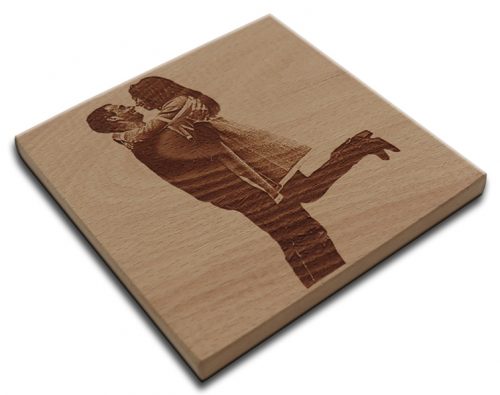 Wedding Photo Plaques!
---
Our wood selection was hand picked for the most practical and beautiful gift applications. Our goal is to offer you, our customers and community, a beautiful and natural alternative the the heavier and more expensive Jerusalem Stone. We use the same precision laser technology and our unique artistic style to create one-of-a-kind gifts for your special life events in a whole new way!
Remember, we are hear to make your gift. If you have a product idea or application that you don't see here let us know! Our purpose is to make the gift that you want.
---
Bar/Bat Mitzvah Plaque:
Grown in Israel, this wood is stunning!! Sanded smooth top and bottom are perfectly complimented by the natural bark still on the sides. The sanded area offers a perfect space for your gift art and a blessing. Rub with household cooking oils to keep the wood healthy and shiny for years to come. Hang on the wall for a beautiful, personalized piece of art! Wood type: סיסם הודי (Indian Rosewood)
Pecan Wood (פקאן)
This hard wood comes in a beautiful oval shape with the bark intact for a natural look. Color/Appearance: Pecan tends to be light to medium  yellowish brown, with a reddish hue. Grown in the holy land of Israel.
Paulownia Wood (פאולוניה)
Paulownia is one of the fastest growing trees in the world! This wood is extremely lightweight while sufficiently strong. Color/Appearance: Paulownia is typically a pale grayish brown, sometimes with a reddish or purplish hue. Grown in the holy land of Israel.
Eucalyptus Wood (אקליפטוס)
Eucalyptus is a very common tree in Israel. The use of eucalyptus trees to drain swampy land was a common practice in the late nineteenth and early twentieth centuries. Color/Appearance: Color ranges from a lighter salmon pink to a darker brownish red. Appearance has been likened to both Black Cherry and Honduran Mahogany. Color tends to deepen with age. Grown in the holy land of Israel.
Beech Wood (בוק)
Available in 10cm x 10cm or 10cm x 20cm; This wood is strong and light. Perfect for photographs, such as wedding photos, portraits, or family photos. Color/Appearance: Beech is typically a pale cream color, sometimes with a pink or brown hue.
Olive Wood (זית)
Olive wood is very hard and is prized for its durability, color, high combustion temperature and interesting grain patterns. The olives harvested from the trees are made into olive oil. Color/Appearance: Olive wood is a cream or yellowish brown, with darker brown contrasting streaks. Color tends to deepen with age. Grown in the holy land of Israel.